In this article, you are going to know what is crash detection and how to turn off crash detection on iPhone 14 
Apple launched Crash Detection, a new safety feature that protects users from accidents. Continue reading to find out what it is and how it works. 
What is Crash Detection?
Crash Detection detects severe crashes in passenger cars. Your Apple device will automatically dial emergency services if you are in a serious crash or unresponsive.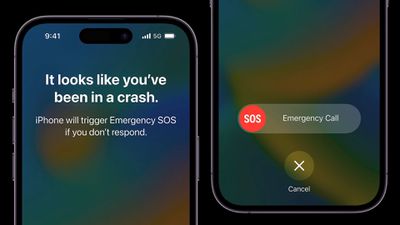 How does crash detection work?
You can crash if you are driving or a passenger in a motor car. The motion sensor has a high dynamic range and high accelerometer and GPS.
An alert will display on your Apple Watch and iPhone for 10 seconds when there is a severe crash. If you are still responsive, swipe the screen to immediately call emergency services or dismiss the alert.
A 10-second countdown will begin if you don't interact with your Apple device for 10 seconds. Emergency services can be contacted when it ends.
The following audio message from Siri starts playing when emergency services call.
It has five seconds of silence between each replay. Siri will relay your approximate location, including latitude and longitude, to emergency services as well as through your phone's speaker.
The first time the message is played is the loudest. After that, replays are at a lower volume to allow you to reach emergency services.
The message will continue to play until you press the Stop Recorded Message button, or the call is ended.
If emergency contacts have been set up, they will be notified after another 10 seconds. Additionally, if Medical ID information has been configured, a slider will be displayed on the Lock Screen to allow quick access.
How to use WiFi instead of cellular for iPhones with weak coverage
What Types of Crashes can it detect?
Apple claims that Crash Detection can detect side and front impacts as well as rear-end collisions and rollovers.
What Apple Devices support crash detection?
Crash detection is available on the following iPhone models and Apple Watch models.
iPhone 14
iPhone 14 Plus
Apple Watch Series 8
Apple Watch Ultra
iPhone 14 Pro Max
Apple Watch SE (2nd Gen)
How to enable crash detection
There is no setup required. You don't have to set up crash detection on any of the supported devices. You can disable the feature if you are concerned about the possibility that it could incorrectly register a crash, and call emergency services.
How to disable crash detection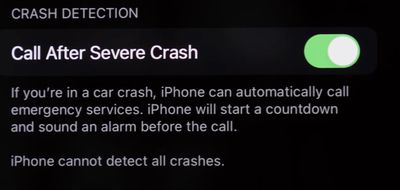 Start the Settings App on your iPhone.
Scroll down to Emergency SOS Operation and tap on it.
Switch off the switch under "Crash Detection" next to Call after Severe Crash.
To enable the feature again, toggle the switch in Settings.
Also Read:-